In 2009, the company engaged in the research of Electric Vehicle conduction interface (EV Charging Connector) and high-current electric vehicle charging connector. The company has three patents for invention. The patent No. is "201110250479.0". What's more another fifteen utility model patents fill the gaps in domestic market.
A, It has a very little contact resistance, It has gentle insertion and extraction force. It can endure vibration and impulse force.
B, Mesh-Type elastic beryllium bronze spring leaf in the plug and socket can be rotated in 360-degree, good in hot-swappable, without electric arc.
C, Due to the special processing of mesh-type elastic spring leaf, it is stable in insertion and extraction, not easily deformed(can be inserted and extracted 100000 times without deformation. It is high-power priority product used in automotive electronics testing, fast charge in new energy electric vehicle conduction interface, rail signal transmission, radio transmission equipment.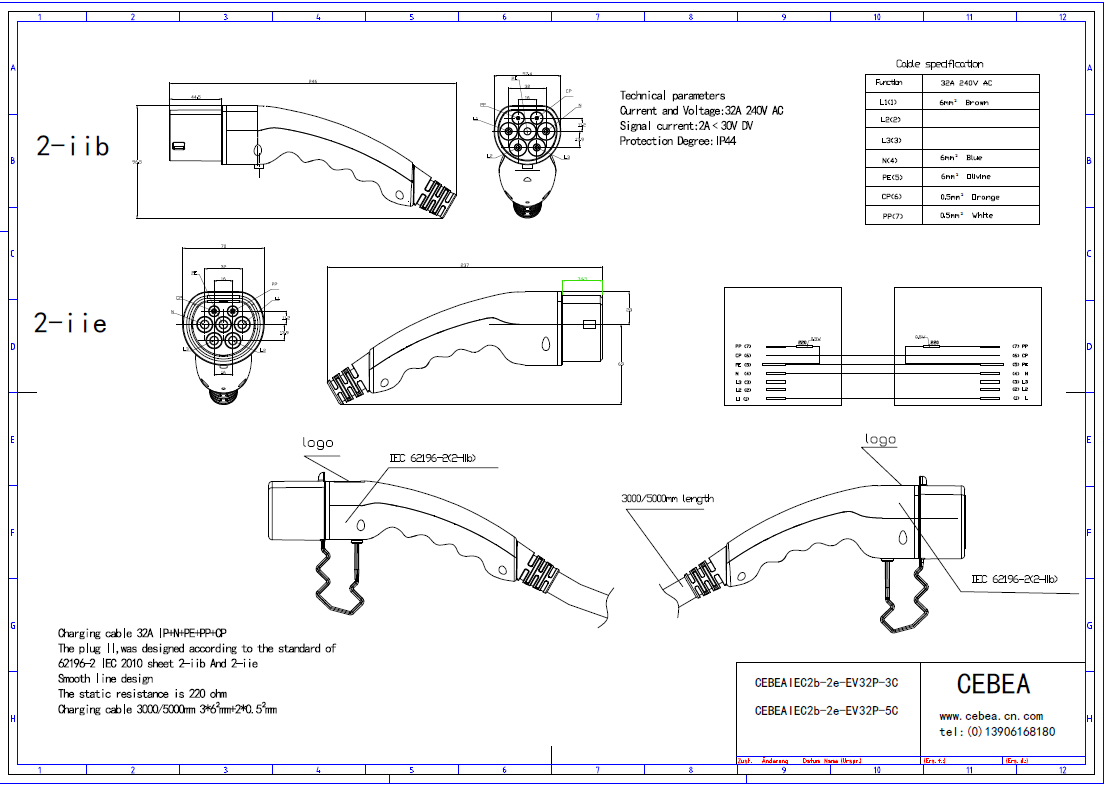 Parameters
Model: CBYUL-ev16/32/40-CT
Rated current: 16/32/40A
Working voltage: 110~250V AC
Insulation resistance: > 1000M Ω
Terminal temperature rise:<50K
Withstand voltage: 2000V
Contact impedance: 0.5m Ω Max
Vibration resistance: Meet JDQ 53.3 requirements
Working temperature: -30°C ~+ 50°C
UL, TUV approved
Charging Cable Spec
TUV or UL 3*2.5mm2+2*0.5mm2 3*6.0mm2+2*0.5mm2 3*8.0mm2+2*0.5mm2
Cord length: 5m or customized
Orange or Black or OEM
Materials
Shell Material: Thermo Plastic ( Insulator inflammability UL94 VO)
Contact Pin: Copper alloy, silver or nickel plating
Sealing gasket: rubber or silicon rubber
Product Parameters
| | | | |
| --- | --- | --- | --- |
| Type | CBYUL-ev16/32/40-CT240V | Plug the power | 80N<F<100N |
| Color | Black/White/OEM | Patch life | ≥10000 |
| Rated Current | 16A/32A/40A | Fire rating | UL94 V-0 |
| Rated Voltage | 110~250V | Waterproof rating | IP54 |
| Resistance Voltage | 2000V | Operating Temperature | -30°C to50°C |
| Insulation resistance | >1000MΩ | Cable Specifications | 2.5mm2 -8mm2 |
| Contact resistance | less than 0.5MΩ | The main material | PA/Copper Alloy |
Functional definition:
| | |
| --- | --- |
| Mark | Functional Definition |
| 1-(L1) | AC power |
| 2-(L2) | AC power |
| 3-(L3) | AC power |
| 4-(N) | Neutral |
| 5-(PE) | PE |
| 6-(CP) | Control Confirmation |
| 7-(PP) | Connection Confirmation |
Brand:
CEBEA & XBYZG